I'm very excited to feature my first Guest Blogger...Mary Beth from Nothing But Country!! We became bloggy friends after realizing that we were both planning our daughters' puppy birthday parties a few months ago and had fun sharing ideas & inspiration. Check out their AWESOME Puppy Birthday Party!!
I've been a fan of Nothing But Country for some time and always find great craft & recipes there! Some of my favorite features are cute holiday gift ideas that always seem to include a fun free printable (they are so awesome)!!! And on that note, let me let Mary Beth share this Halloween goody with you...
I am so excited to be guest blogging here at Love & Sugar Kisses today!! My name is Mary Beth and I run the blog Nothing But Country with my husband Chad as well. He is a great cook and I love to craft and we both love DIY projects. :) Thank you Maria for inviting us to share a project with your readers today!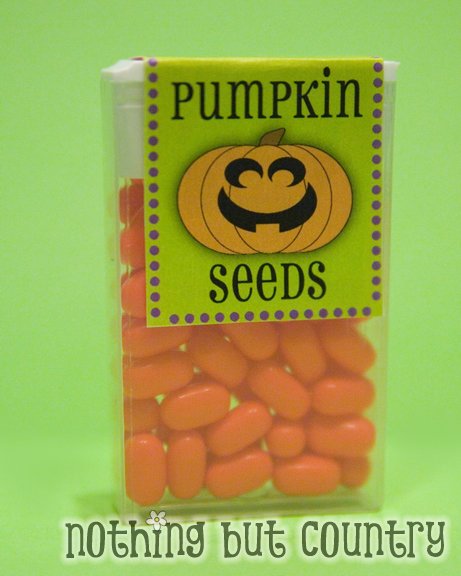 I am always looking for cute gift ideas to give friends, teachers, family etc. Something practical as well. This year I plan to give out these "PUMPKIN SEEDS".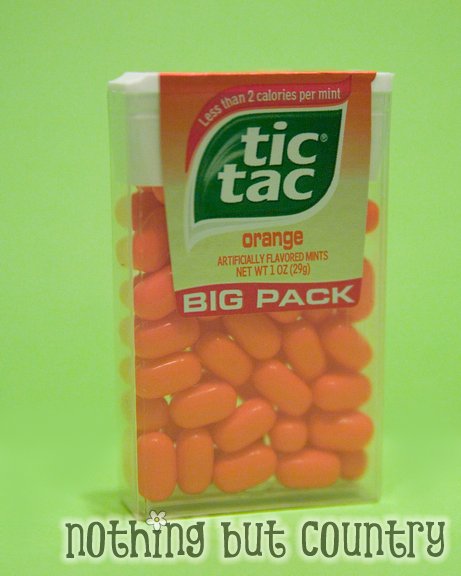 Simply started with a pack of Orange Tic Tac candy.
Download the free printable. I print mine out on a full sheet of address labels that are 8 1/2 x 11 in size. Then cut them out and stick them on. You can easily print on paper and use glue or double-sided tape and tape it on as well.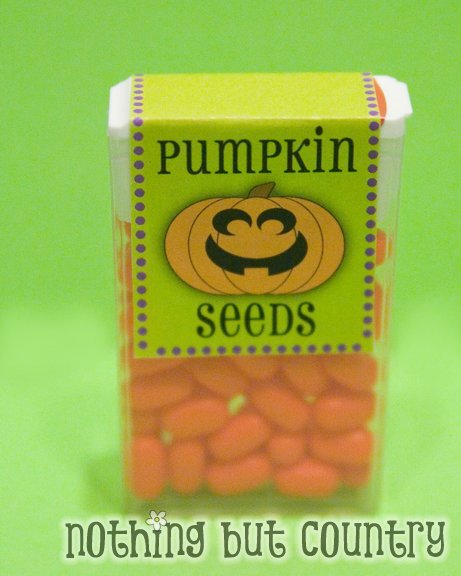 The label will wrap all the way around from the front to the back and cover the sticker. No need to remove the Tic Tac sticker at all.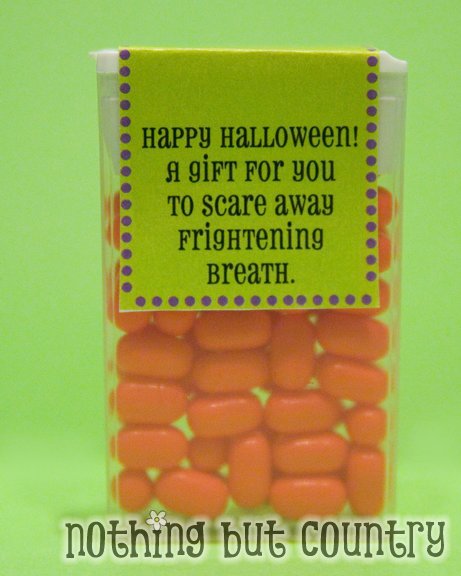 Here is the view of the back. HAHAH :)
I always love getting gifts like these, so I try to give them as well. They are fun to receive and giggle over!
Thanks again for allowing us to share this quick Halloween Gift/Craft with you all today.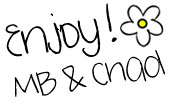 Thank you so much Mary Beth for sharing this fun Halloween treat & printable with us!!
If you are not a fan and follower of
Website:
http://www.nothingbutcountry.com
Facebook:
http://www.facebook.com/nothingbutcountry
Twitter:
http://www.twitter.com/nothingbcountry